How to Create a Portfolio Website: A Detailed Guide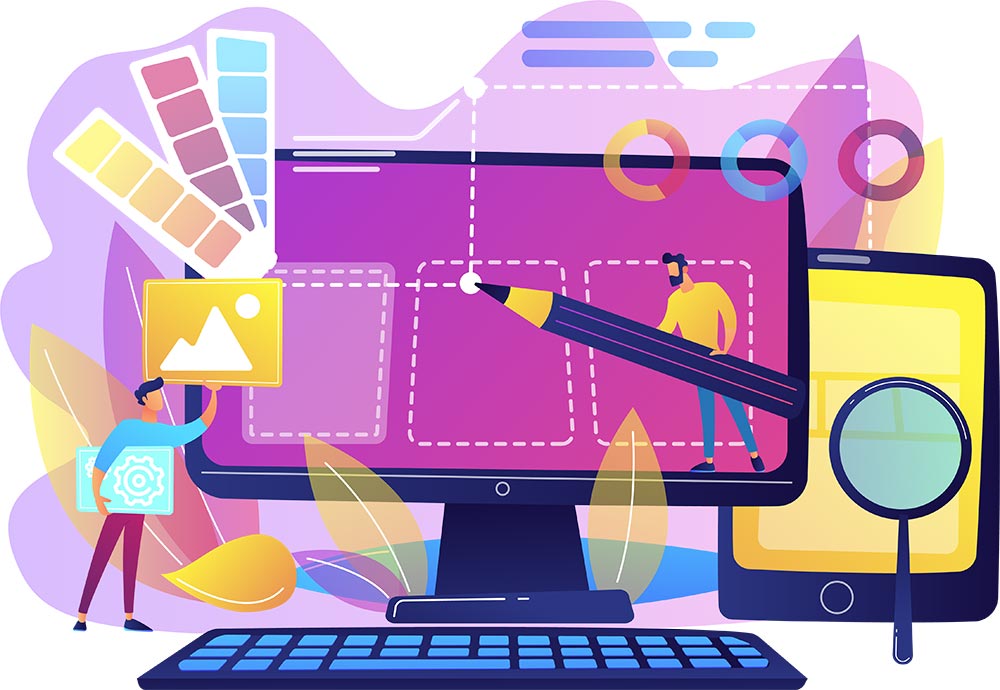 How to Create a Portfolio Website
A Detailed Guide
---
In this simple step-by-step guide I'll take you through the entire process of creating a compelling personal portfolio website to display your best work, and eventually get you hired.
The process includes four essential steps and will take you no longer than 20 minutes. It will cover all the web design knowledge gaps and make it possible to have a stunning portfolio website without having to touch any line of code.
Disclaimer: This post contains affiliate links, which means I receive a small commission on a purchase without additional cost to you. I do believe in the products mentioned in the article and have an extensive experience with them. If you do purchase through my affiliate link, thank you so much for your support!
Step 1: Picking a domain name
Before we jump into building the website, let's quickly go over domain names.
Almost every hosting company sells domain names. When purchasing a hosting plan (we will discuss this in step 2), most hosting companies do provide a one-year free domain name for you.
When picking a domain, you might feel an urge to be creative, or even funny. The best advice I can give you is to keep it simple.
Should you use your name as the domain name?
I highly recommend using your exact name for the domain. The reason is that it is the best way to make sure your website is the first thing that comes up when people search for you online. Otherwise, they might run into your personal Facebook page or other random pages that has nothing to do with you.
It's best to have as much control over the search results for your own name as possible, and a domain for your name is the best way to do so.
If the domain for your name isn't available, try adding a word at the end, like "johndoeportfolio.com" or "johndoeart.com". The important thing is to have your full name in there.
Step 3: Design your portfolio website on WordPress using a theme (free / paid)
In this part we'll be working in WordPress to show how to get and set up a new theme. We will start with the installation of a blank theme (which we actually covered in step 2), down to the installation of some free and premium themes.
If you are hosting your WordPress website on Bluehost or other hosting providers, you have the freedom of using any theme (both free and paid) for your website. We recommend staying away from nulled or cracked themes to avoid installing malicious files into your website, thereby making it vulnerable for hacking.
X Theme – our most recommended premium theme
Before we cover some recommended free and paid themes, we want to show you how to set up what we consider to be one of the best themes out there – X. It is the theme we use at Bloop Animation, and my go-to x theme whenever I set up a website.
X is made by themco. hey make 2 versions of the theme: X, and Pro. Pro is just a more customizable version of X. For most people I'd recommend sticking with X.
To get X, thought, we'll have to go to Themeforest.
Getting premium WordPress themes from Themeforest
There are so many trusted premium theme websites, but we recommend Themeforest. Themeforest is the number 1 premium theme vendor, and they have a theme for pretty much any purpose, including portfolio websites.
So lets go to themeforest.net. In the search box, type "x theme" and click Search.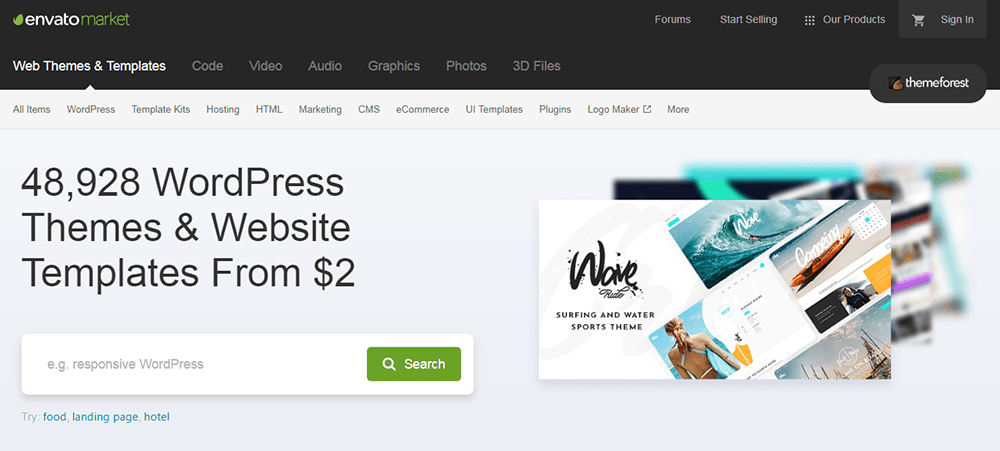 The first result should be the theme we're looking for. Click on the shopping cart icon to add it to the cart.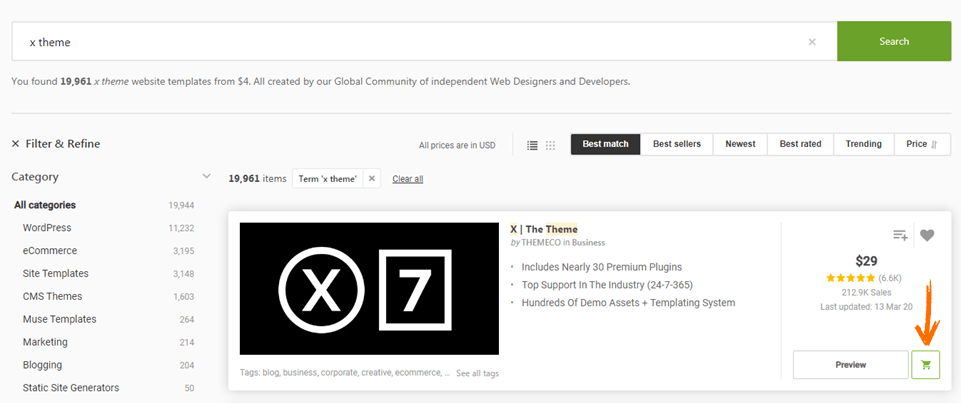 A pop-up will appear with options to choose between Regular and Extended License, and between 6 and 12 months support. For this project, we are going with the regular licenses with a 12-month support plan, which costs $35.38 in total.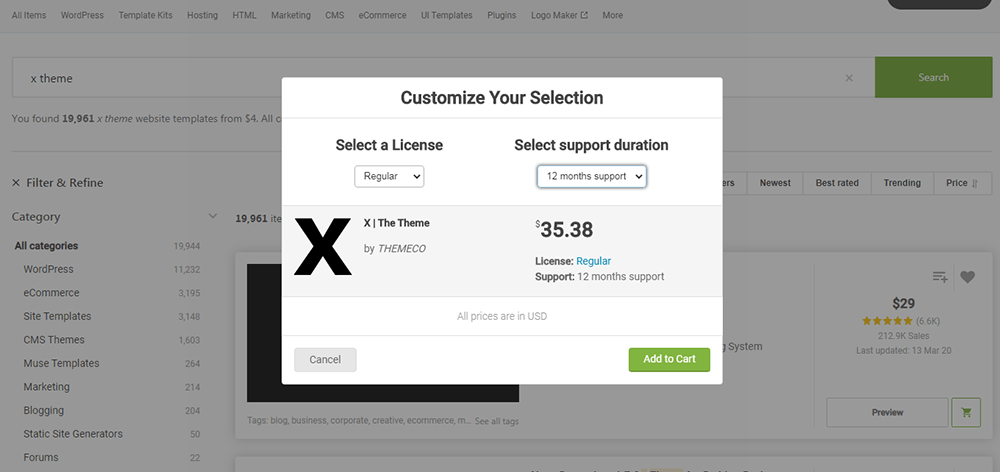 To continue, click Add to cart, and then on Go to checkout.

After clicking Secure Checkout, you'll need to create an account or sign in to an existing account if you have one.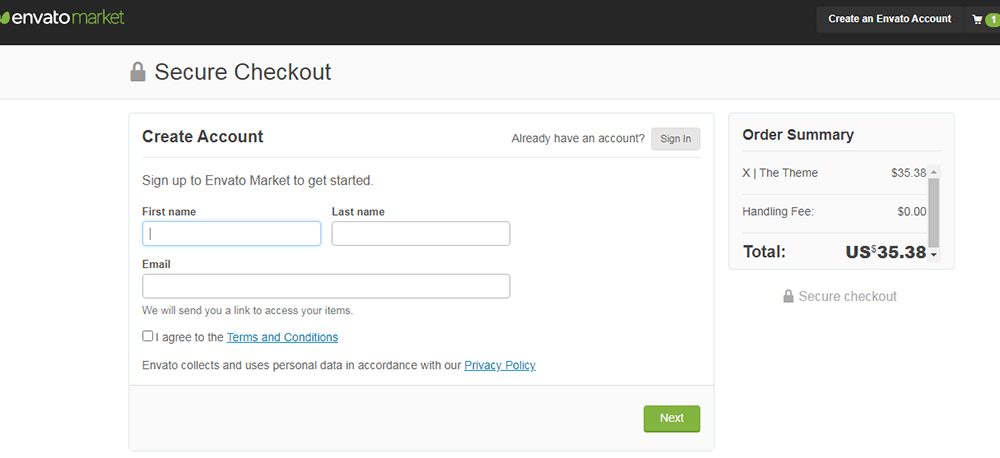 Choose a username and password to create an account and continue.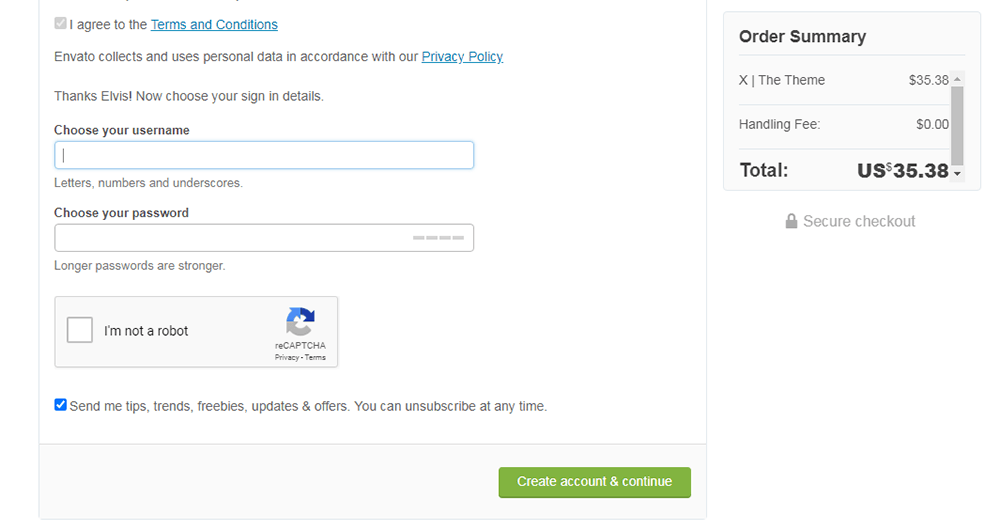 Next, fill in your billing details and click on save and continue.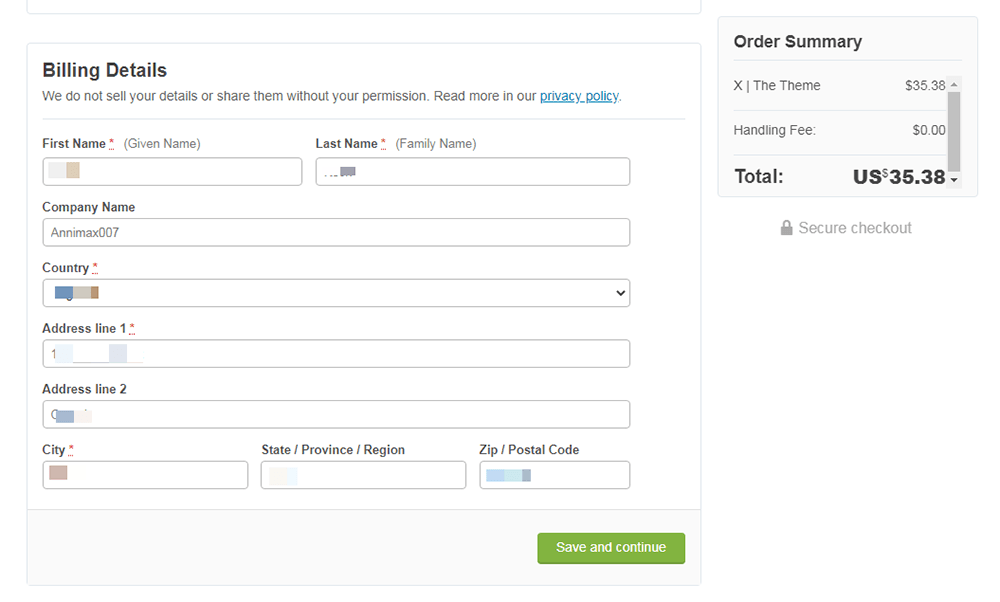 Choose a payment option and complete the transaction. There is a credit card, Paypal, or Skrill option.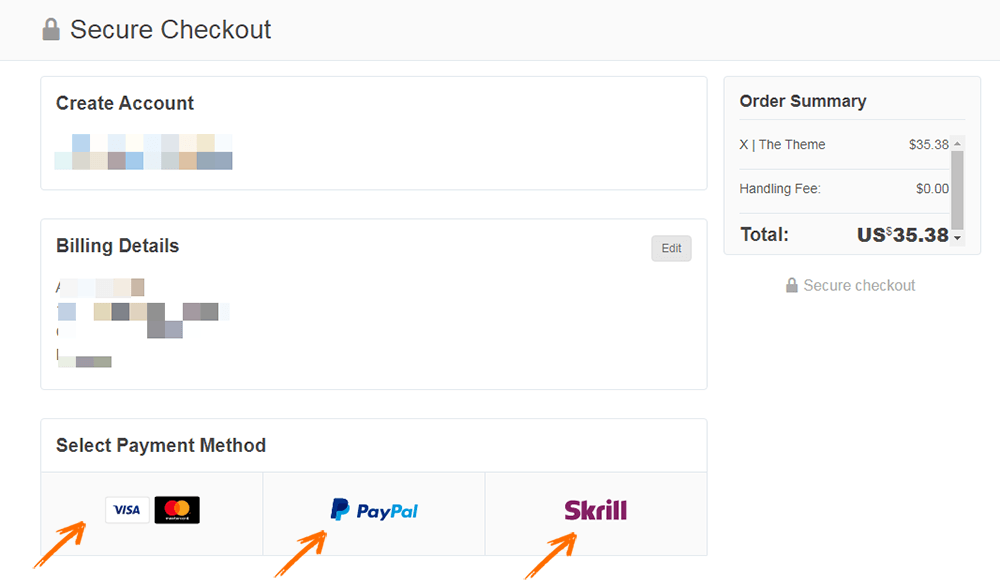 Once your payment is confirmed, you'll receive a confirmation email from ThemeForest. The theme will be added to your ThemeForest account.
Accessing and downloading your themes after purchase
After you've purchased the X theme, you'll need to download the theme file before installing it in your Bluehost hosting, where you've activated WordPress already.
To do this, log into your ThemeForest account, hover over your username at the top-right, and click on downloads.

On the downloads page, you'll see all the themes and items you purchased from ThemeForest. Click on the download button next to the x theme and then select Installable WordPress file only to download the theme. It will download the file in zip format.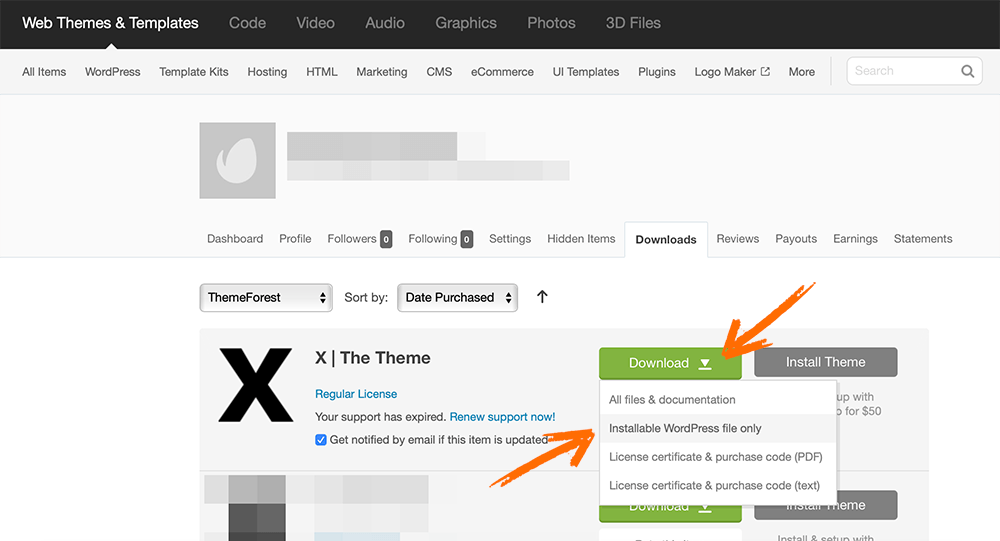 Installing the theme
After downloading the theme files from your ThemeForest account, log in to your WordPress account you installed on Bluehost. Once logged-in, hover your mouse over to the "Appearance" section and select the "Themes" sub-menu.

On the next page, click Add New.

Then click Upload Theme.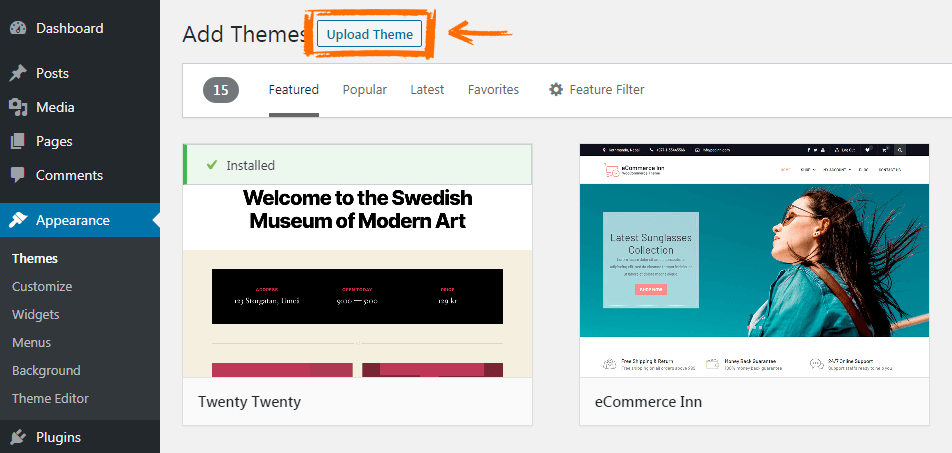 Install the theme file by selecting the Choose file option. Locate and select the zip file you just downloaded.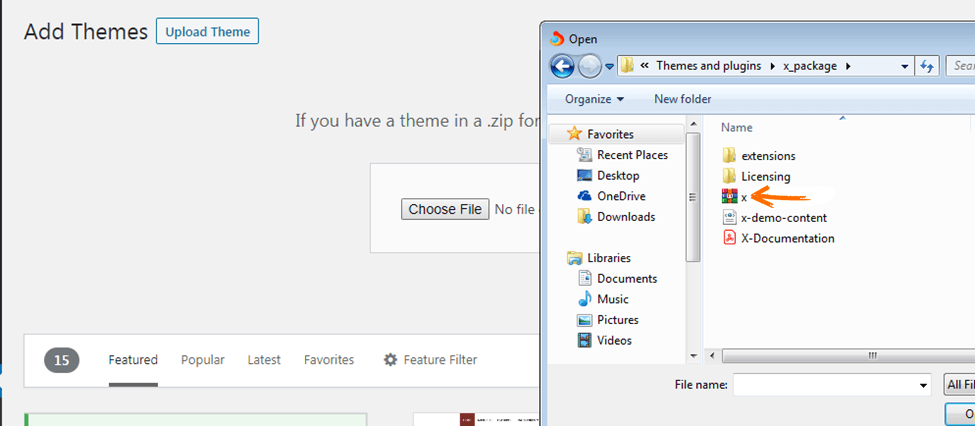 Click the Install Now button to install the theme.

It will take a few seconds or minutes to install, depending on your internet connection. Once the installation is successful, you will see a message like this: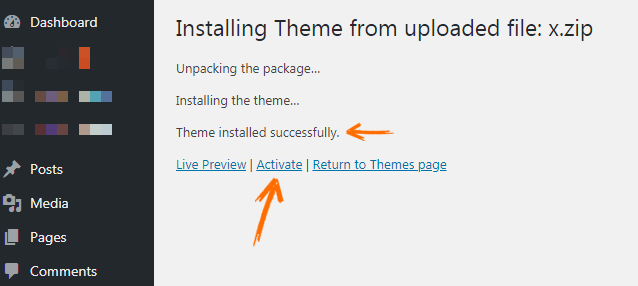 Click on activate to activate the theme. You will be redirected to the theme's dashboard.
Validating Your Theme
To validate the "x theme", submitting the license code that comes with your purchase for verification.
To get the purchase key from ThemeForest, follow these steps:
Log into your account and click on your account name at the top-right section of the screen.
 From the dropdown menu, click on the "Downloads".
Click on the "Download" button next to the "x theme".
And then, click on "License certificate & purchase code" in the dropdown to download the product information text file.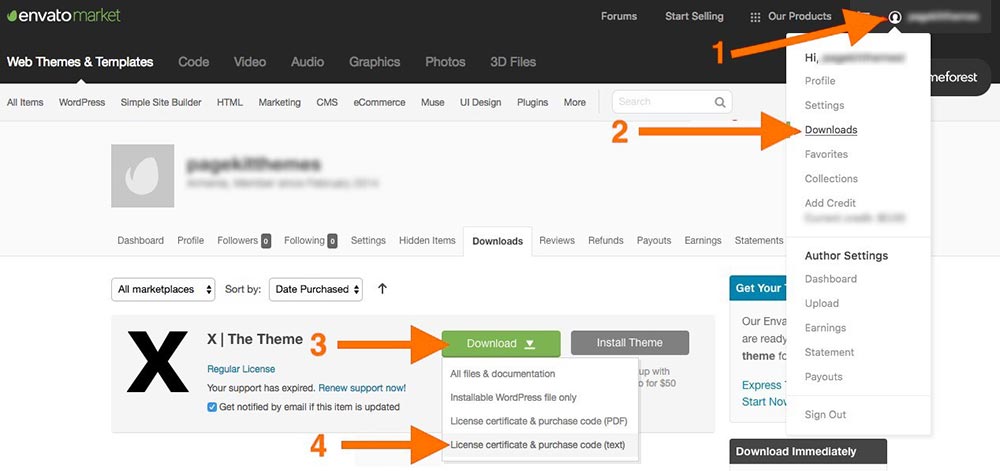 Search for Item Purchase Code in the text file, and you will find the purchase key to use in product validation.
Now that you have your product license, head over to your WordPress installation, and access the product validation page as follows:
Go to X > Validation.
You will see an input field where you add the license number and hit enter: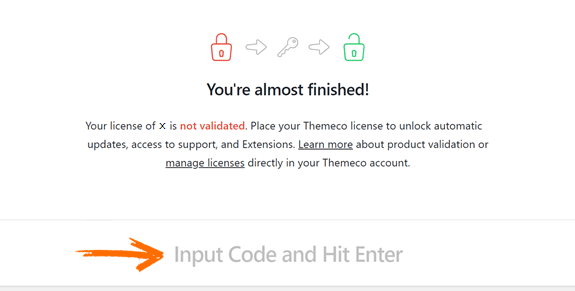 If everything goes right, you will get a success message. Now, install the required Cornerstone plugin.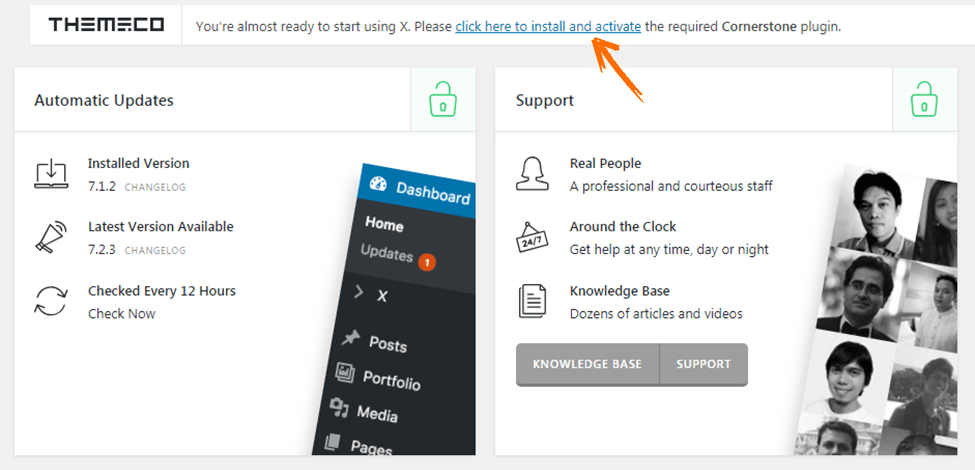 Click on X to go to the X theme, dashboard. Click on the Launch design cloud.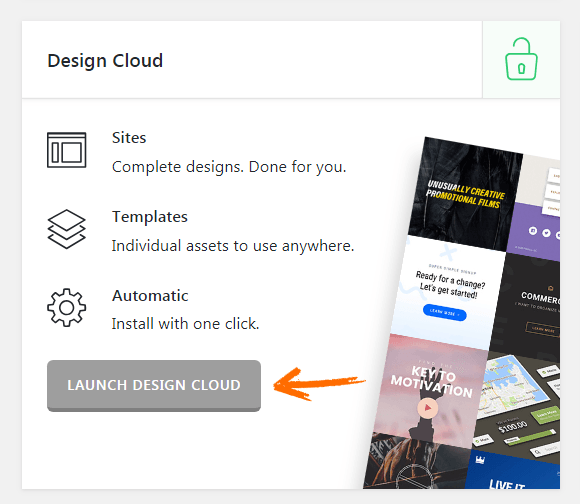 On the Design cloud, you'll see many creative, beautiful themes. Choose the one you like and click on Install.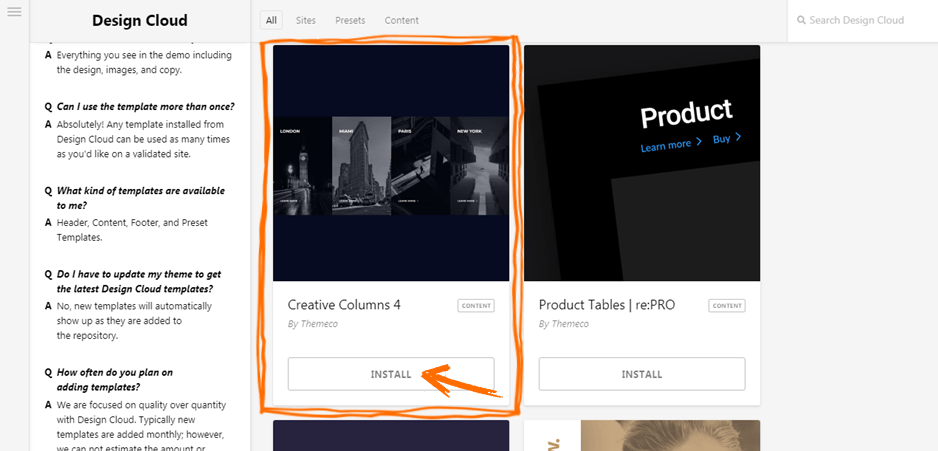 Visit your website to see what it looks like with the template you chose: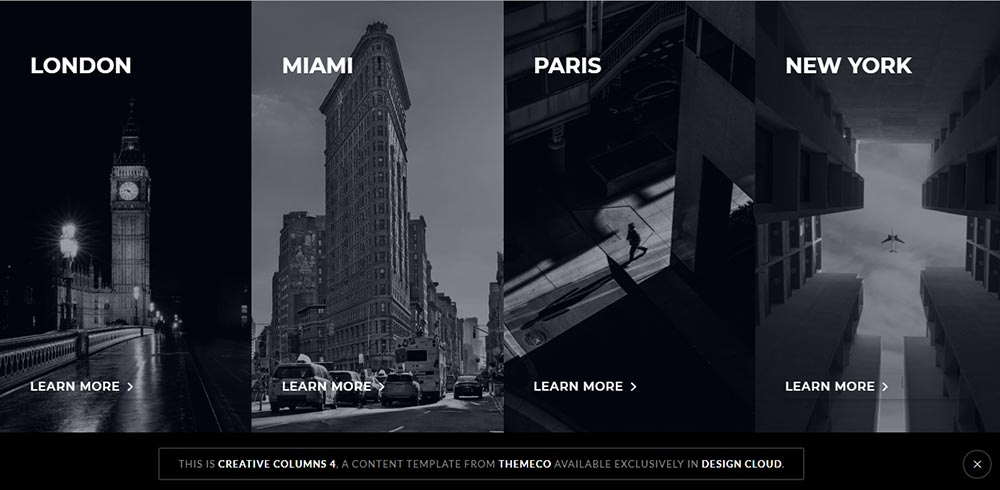 You can now go to the customizer to add your own images and customize the website to your liking. You can also change the theme if you don't like it.
Recommended themes for your portfolio website (premium)
The X theme is by far one of the best ones out there, but it's not the only one. There are plenty of other flexible great looking themes you can use, so let's go back to Themeforest and check some of them out.
With well over 48,600 themes in their listings, finding the perfect theme for a project on Themeforest can be difficult daunting to the uninformed.
Luckily for you, we have done the research for you and found 10 great options for a portfolio website.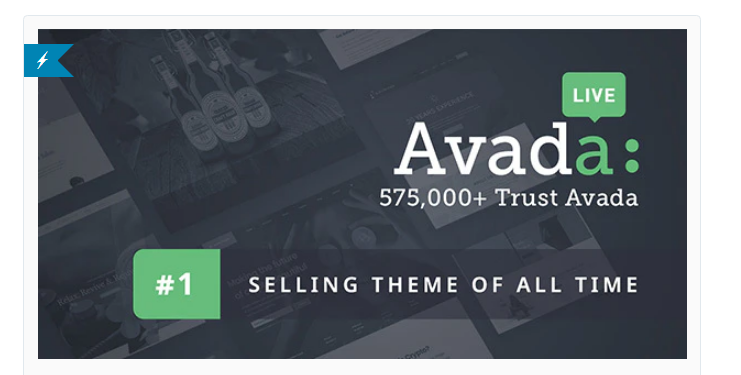 Avada is the #1 selling theme of all time on all popular WordPress theme marketplaces with over 600,000 sales and counting.
It is also the most used all-in-one multi-purpose WordPress theme at the moment. Built by the company ThemeFusion, Avada uses a drag-and-drop Fusion Builder to make website customization simple even for those without single coding experience.
After installing the Avada theme (installing the theme is done in the same way we installed the X theme), go to the Demo tab if you'd like to install one of their demo templates as a starting point.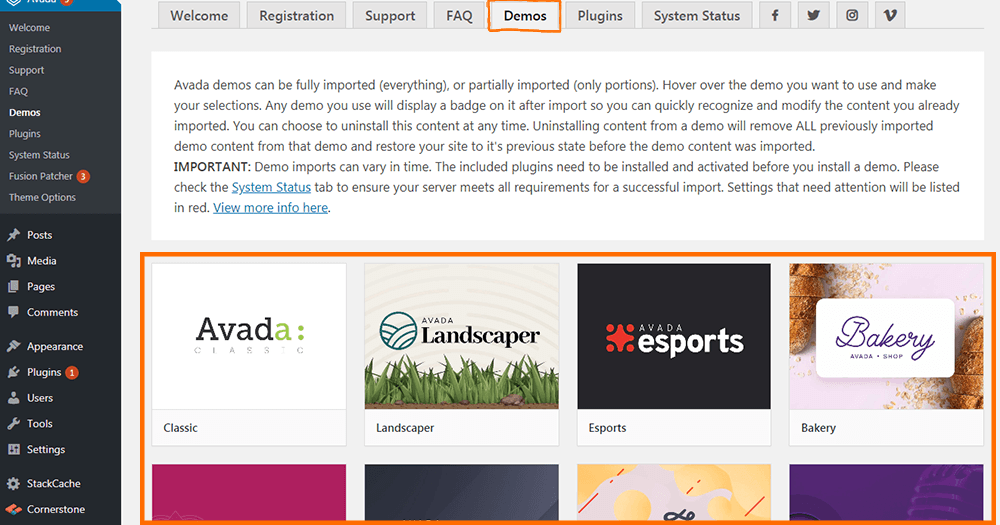 Hover over to any demo template, click on Preview to see the live preview; if you like it, click Import to import the template. You can import as may demo as you'd like; you only have to activate the one you want to use at any time.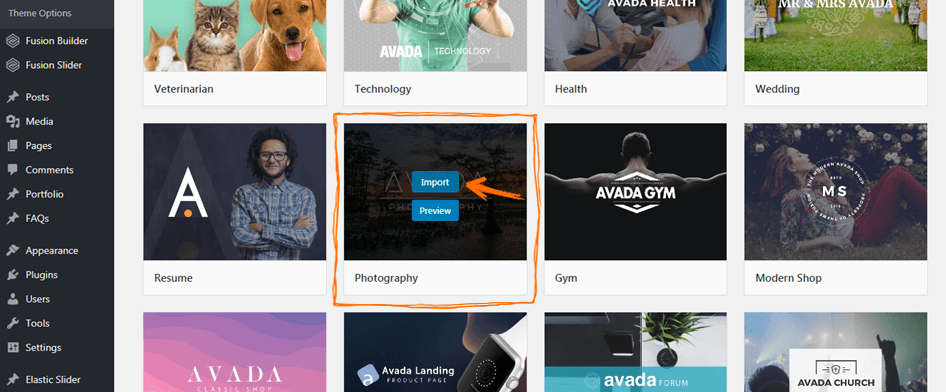 Once you click on Install, a pop-up will show you the plugins required to import the contents. Install and activate all the required plugins. After that, tick the All box to import the demo content of the selected template. Then click on Import.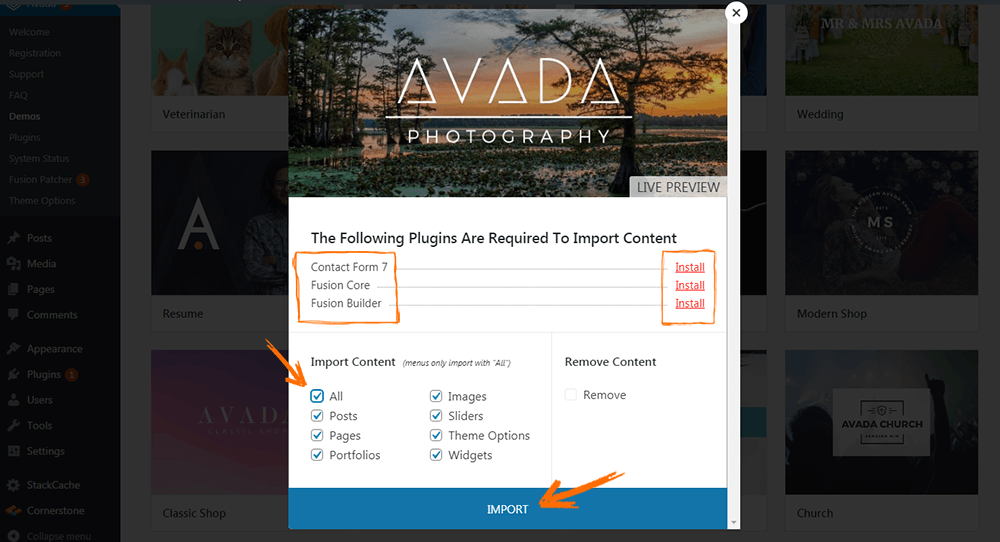 Congratulations! You've successfully imported the demo template, now open a new tab on your browser and type in your domain to see how your new website looks like.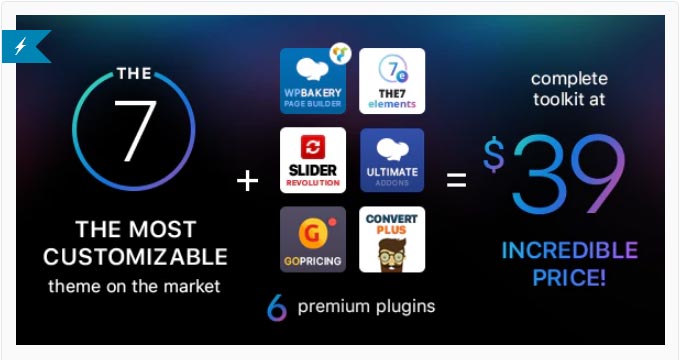 The7 is another top-selling theme on Themeforest at the moment. It features full and seamless integration with WPBakery Page Builder (formerly Visual Composer) and Ultimate Addons.
Having over 1000 Theme Options, almost any imaginable design can be crafted with The7 theme. The Design Wizard feature lets you create a professional website in a matter of a few minutes.
The following premium plugins are bundled with The7 theme. 
WPBakery Page Builder (formerly Visual Composer)
Ultimate Addons
Slider Revolution
Layer Slider
Go Pricing Tables
ConvertPlus
It is also fully compatible with most prevalent plugins like WooCommerce, Yoast SEO, etc.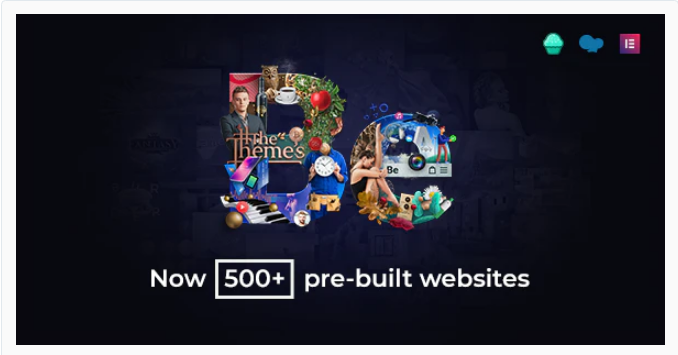 With 500+ Ready to use pre-built websites and 1-click installation, Betheme gives you unlimited possibilities. Betheme is well suited for portfolio websites. With its drag-and-drop feature, anyone (including those without coding experience) can easily build professional-looking websites with it.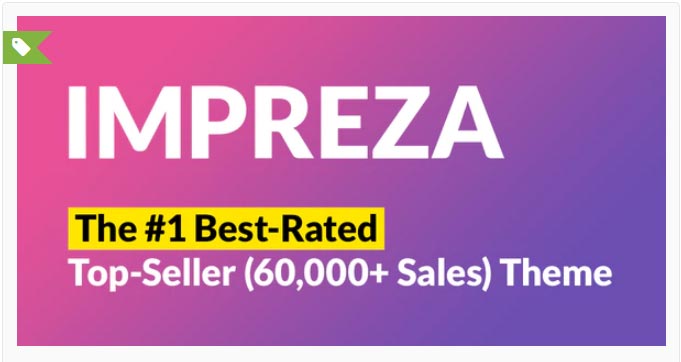 With Impreza, there's no limit to what you can customize to align with your specific needs. It is a perfect fit for a portfolio website. Bundled with over 220 pre-made web page demos, Impreza also comes with a visual drag-and-drop builder and a 1-click demo installer.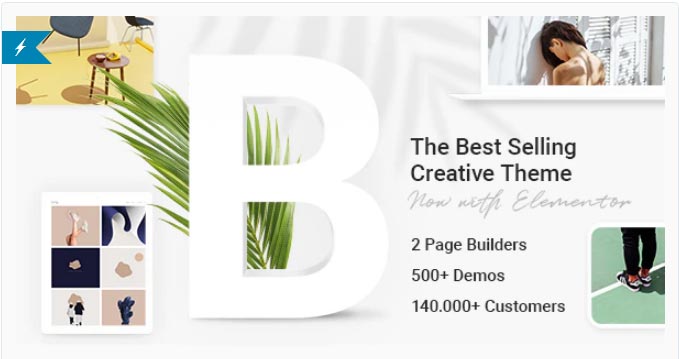 Bridge is a retina multi-purpose WordPress Theme with over 500 demos and 2-page builders built on the compelling and flexible framework by QODE.
Any of the example demo sites can be imported seamlessly by choosing your favorite design or style, then import pages and settings with the 1-click import feature. With the Bridge theme, you can have a fully equipped website set up and running within just a few minutes.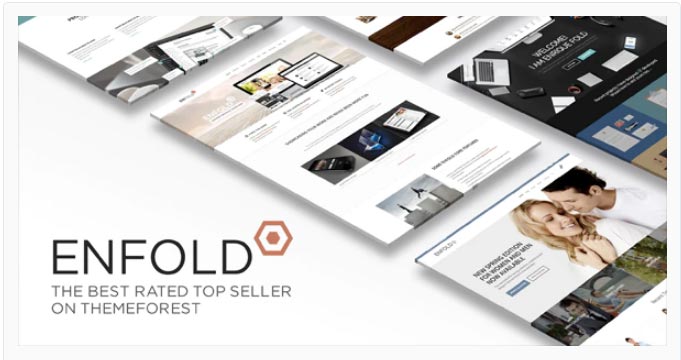 Enfold is a clean, super flexible, fully responsive WordPress theme by Kriesi. Enfold can be used to design any type of website ranging from neat portfolio websites, business websites, Agency websites, online shops, and much more. Built on top of the Avia Framework, Enfold offers a multi-language plugin that includes over 20 languages.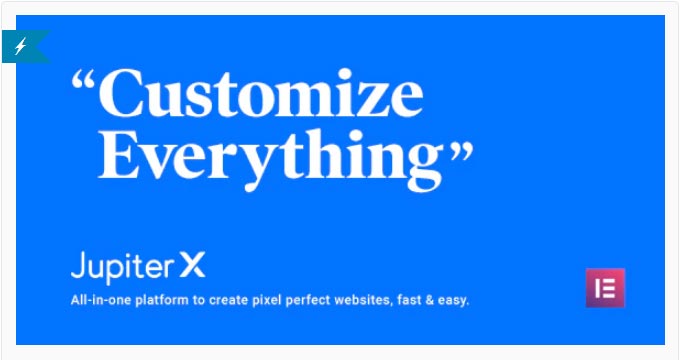 Jupiter X is your all-in-one theme to create easy pixel perfect websites with speed. Bundled with Elementor page builder (the world's leading WordPress page builder), you can customize Jupiter X directly using the WordPress customizer. Apart from that, you can now build your own headers and footers effortlessly using the visual editors.
With well over 300 pre-made website templates, Jupiter X also comes with hundreds of page block templates to save time and bring inspiration. New websites and block templates for Jupiter X are released every month.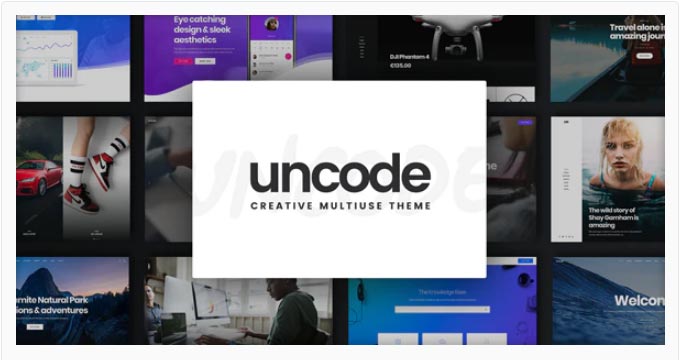 Uncode is a pixel-perfect creative WordPress Theme. It is based on a personalized and improved version of the popular WPBakery Page Builder. Uncode is a multi-purpose theme, neat, flexible, and suitable for every website design. It can be used for a portfolio website, agency, freelance, business, services, startup, photography, event, artist, music, etc.
With over 70 professionally designed demo layouts, you can import and customize to your taste. Moreover, with the Uncode Wireframes Plugin, you can also import over 400 section templates that can be combined to create a complete website or independent landing page. You can virtually build anything you want without touching or even seeing a single line of code.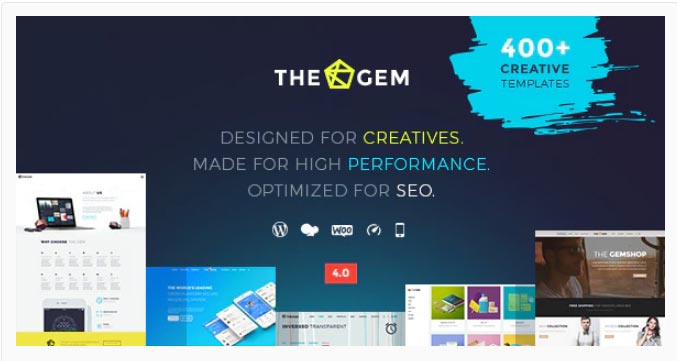 TheGem is a multipurpose, responsive, high-performance WordPress theme with a modern artistic design to suit all creative uses for web design.
Designed and developed by CodexThemes, TheGem is an ultimate web building toolbox of design elements, styles & features. You can build an awesome, professional high-performance website in a few minutes without even knowing how to code.
It is packaged with over 40 distinctive multi-purpose design concepts, 150 superb demo pages, 8 navigation settings in over 20 styles, and flexible page layouts. It is perfect for building a portfolio website and any other type of site within a few minutes.
TheGem is built with creative passion at heart with dazzling slick designs, and every artistic person will really love it.
Recommended themes for your portfolio website (free)
Apart from all the premium/paid themes listed above, there are free themes that you can use to create a beautiful portfolio website.
Once you install WordPress in your hosting account, you'll have access to WordPress's numerous free themes.
How to find a free theme from your WordPress account
To use a free theme, you will have to find the theme by logging into your WordPress account. Hover over to Appearance and click on Themes.

On the Themes' page, click on "Add New."

On the "Add New" page, you can see the featured themes, and there is still so much more. You can actually filter the themes to get what you want.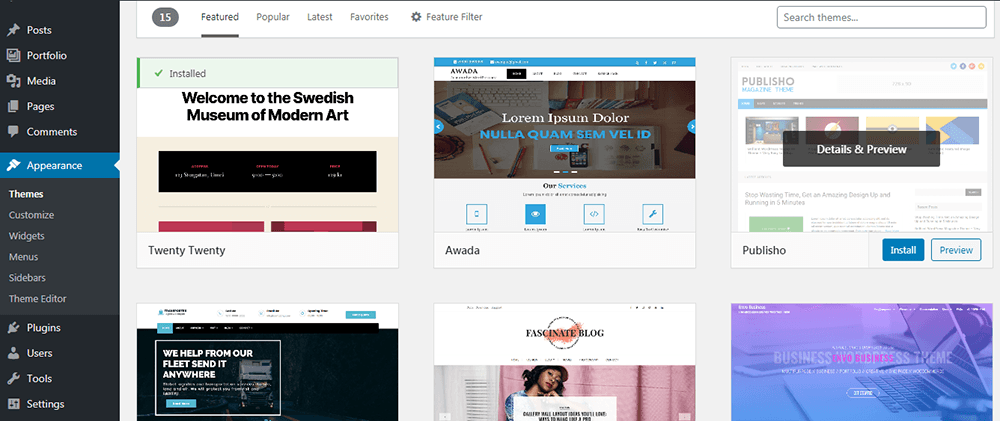 Using the filter menu, we can filter themes by; Popular, Latest, and Favorites. Just a click on the "Latest" filter returned 7,656 theme results:

If you have a preferred niche in mind, you can use the search box. So, to find a portfolio theme, you can either click on the "Featured" tab, or type "portfolio" in the search box to see all the portfolio themes. The search returned 863 theme results.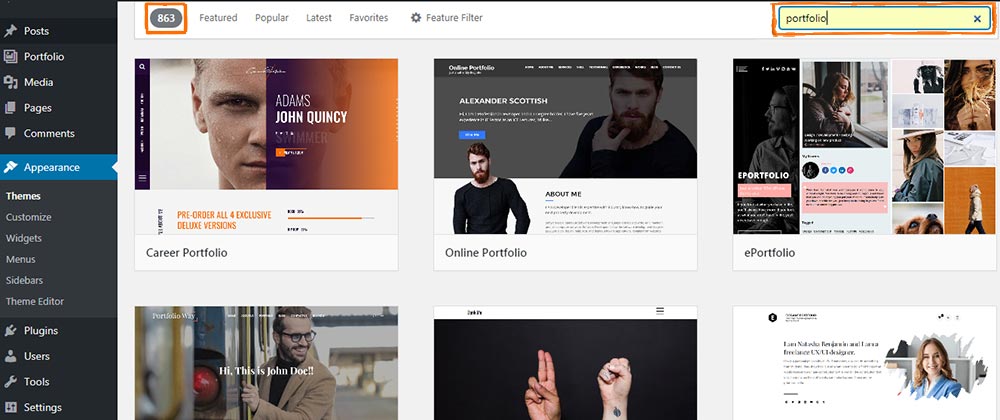 You can choose to narrow your search further using the Feature Filter tab.
Typically, using that tab most times is unnecessary, especially if you're a beginner. Still, there's no harm in trying it out. Let's select Portfolio under Subject heading, and Three columns under Layout heading, then click on Apply Filters.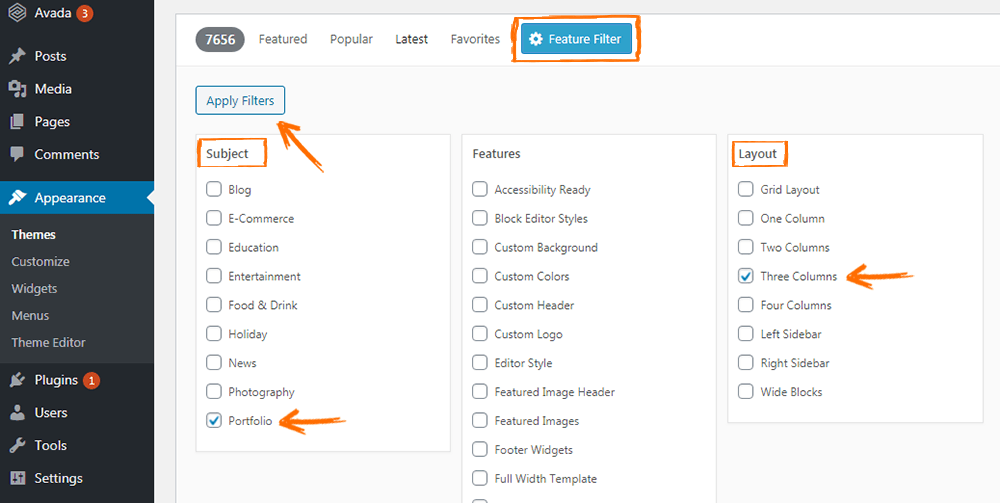 After that, we're now left with 346 themes.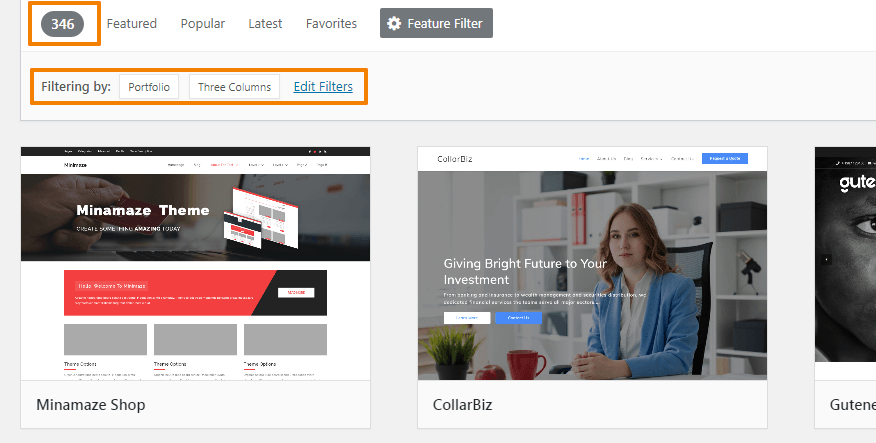 Finally, with the search themes box, you can search for a theme if you already know the name. Let's search for Gridster-Lite; that's the free theme we will use in this example.
Our search returned three results; we'll use the first one.

Now that you've seen how to filter free themes to get your desired theme on WordPress. Let's look at how to design a portfolio website using one of the free themes, Gridster-Lite.
Using the Gridster-Lite free theme
In this part, we'll learn how to design a portfolio website using the Gridster-Lite free WordPress theme.
Having searched and found the theme, hover over it and click on Install. You can preview to see what our website will look like.

Once installed, click on Activate.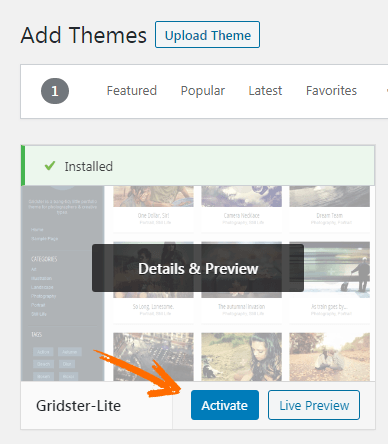 Let's look at how our website looks with the new theme: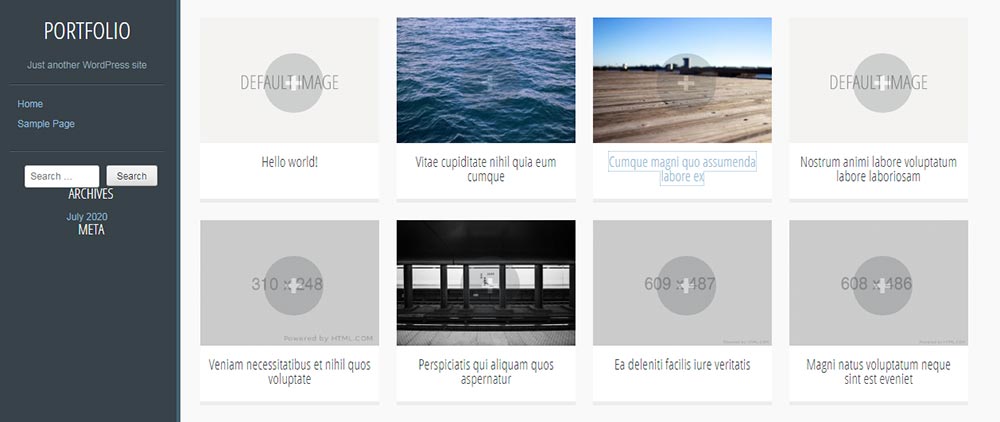 Step 4: Adding your demo-reel
Many of the themes we covered have unique page builders or templates you can import to create great looking portfolio websites.
however, I wanted to make sure you know how to create a page, add your demo-reel to it, and set it as your default homepage, in case you wanted to do things yourself.
So first, lets add a new page:

Then you'll be directed to the page editor, most likely using the block editor. The block editor is a really nice way to build pages in WordPress without using any theme or plugin. Let's name our page "Home".

The block editor lets you build pages with "blocks", which are basically different pieces of a page, created with default settings. They could be chunks of text, or in our case – an embedded video.
Click on the black plus sign to add a new block: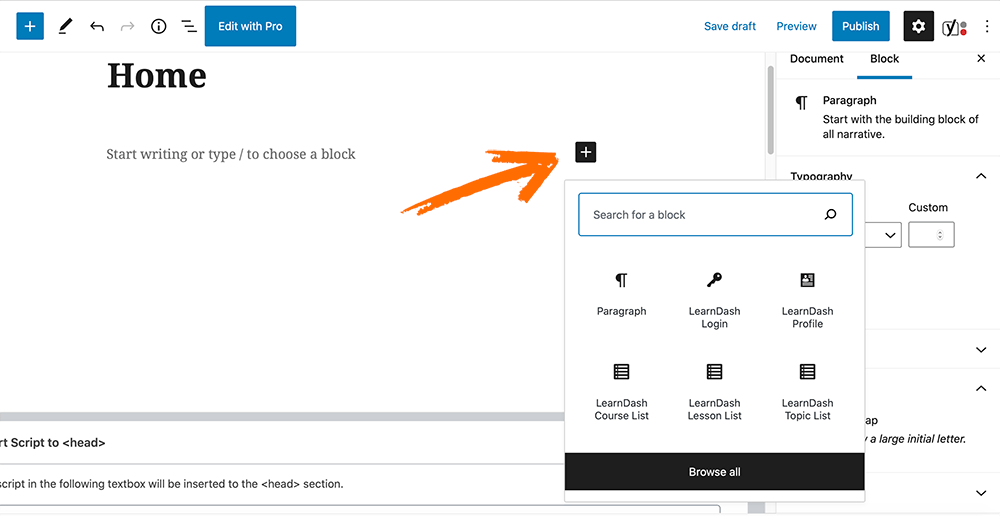 Then your most recently used block will appear, but we can either browse all the different blocks or search for the one we want.
We know we're looking to add a video to this page, so let's type "video" in the search bar:
We are presented with a few different options to embed our video. In this case we'll pick Vimeo, but you can use YouTube and others as well.
After picking Vimeo, we'll enter our demo reel's vimeo URL and click "Embed".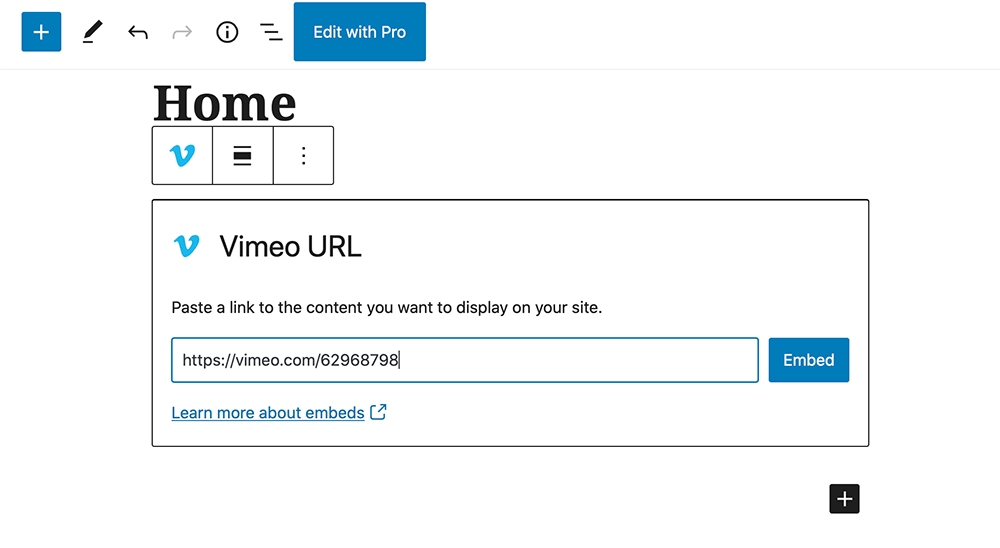 Our demo reel was now added to the page.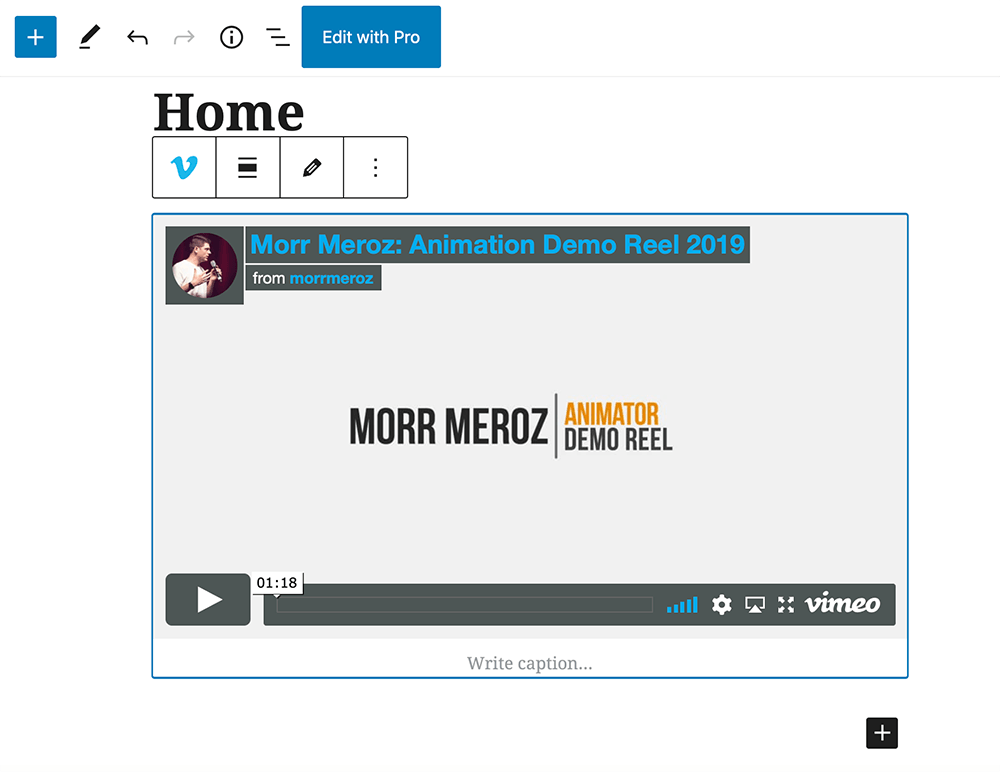 Now let's set this page to be our default homepage.
Go to Settings -> Reading: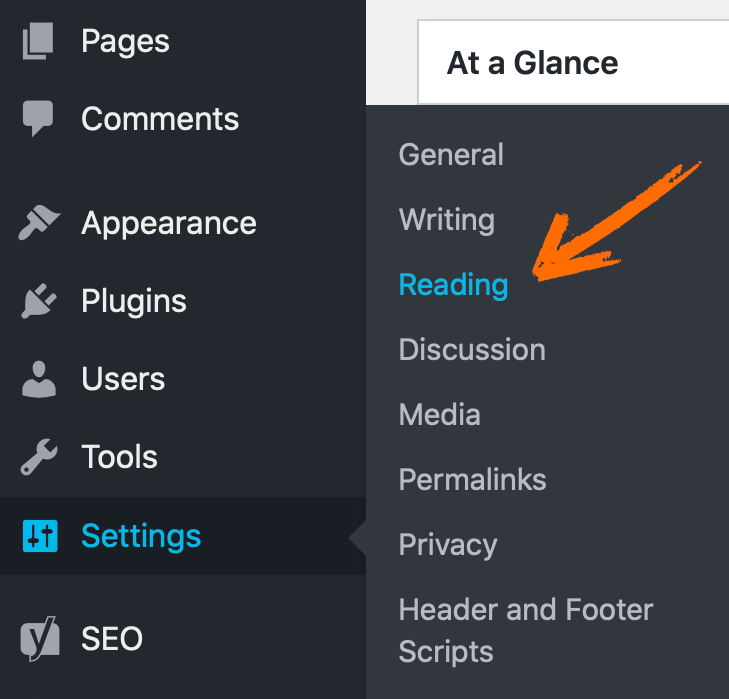 Select a static page to be displayed as your homepage, and pick the page we just created (named "home").

Now when we go to our website, this is what we'll see our demo-reel, front and center.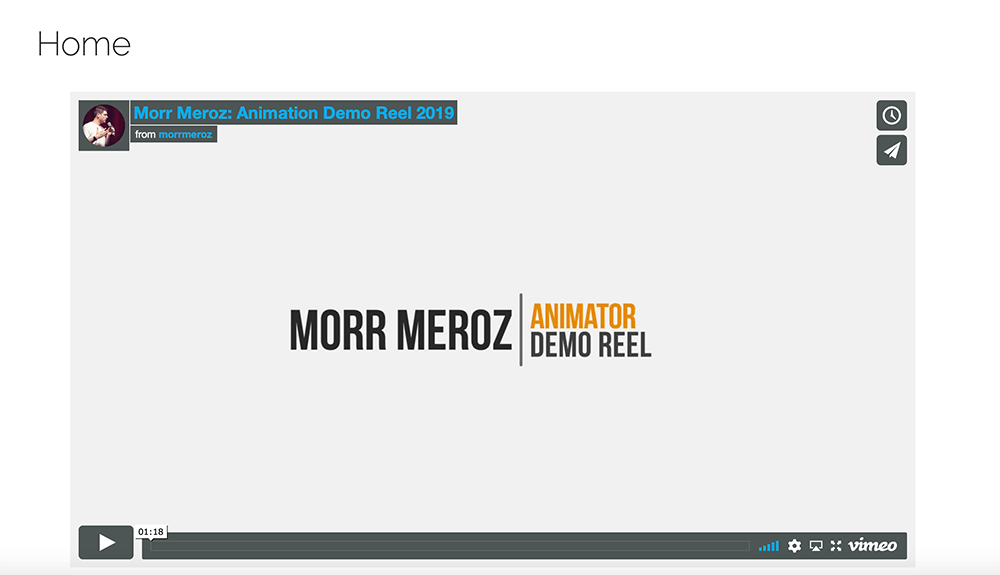 Yes, the design isn't anything to write home about, but now you know how to create and edit your homepage. Try exploring other blocks, templates and page builders to find the one the works for you!
Step 5: Website design guidelines
Now that we know how to build a portfolio website, I want to talk a bit about some basic design concepts to keep you on the right track to create a great looking, but also effecting website.
The first thing you need to keep in mind is keep it simple. Repeat this mantra through the entire time working on your site.
If you don't have design experience your tendency will probably be to overcomplicate things, add more information than necessary, and add as many elements as you possibly can. Especially since these template platforms offer so many cool options. You might think it's a great idea to include a maps widget with your location on the homepage, but it's not a great idea. Stick to the basics.
Most importantly, remember who you're making this site for. You're not making it for yourself, you already know everything about you. You're making it for industry people who want to know more about you. They want some brief information about you, see some of your work, and a way to contact you. That's it. Anything that isn't those things is probably unnecessary.
Single page vs. Multipage
There are 2 common approaches to a personal portfolio website. The single page layout and the multipage.
A single page website is one single webpage with a bunch of menu items on top that lead to different parts of the page, so the viewer stays on the same page the whole time.
A multipage website is when you break down the website to individual pages, one for each purpose. Like a contact page, or a bio. Then the navigation menu transfers you to the appropriate page.
Picking a layout is your choice, it's a matter of taste, but if you don't have too much stuff to put on the site, or if you can't decide, the safest option is to go with is a single page layout.
It's the most considerate option for your readers, as you make it easier on them to get all the information the need in one place. I personally think it's the better option.
I actually used a multipage layout for my own portfolio website, because I had a lot to write in each section, I had a page for my short films, a page with my personal bio, and I wanted a dedicated menu option to link to my blog on bloopanimation.com.
But even though I used a multipage I still treated my homepage as a mini one page layout, by including a picture, a short headline that sums up who I am, a longer paragraph with a more detailed bio, a link to my blog and a list of my short films.
That way if someone hops on the site and doesn't want to start browsing, they can still get all the info from that one page.
I have a lot of respect for the time of my readers and I want to make sure I do everything I can to make it easier on them when they take the time to look into what I'm all about.
Goals
Make sure you know what the goal of your website is. My goals with the website might be different from yours.
I'm trying to provide some basic information about me and positioning myself as an animation director. I'm not trying to get hired as an animator anymore, so I don't even have my demo reel on the site at all.
I used to though, when I was still working in studios, and back then the first thing you would see on my homepage was a big video of my demo reel, waiting for you to click on to watch. I did that because I knew people who are visiting the site are probably from a studio considering to hire me, so I wanted to make it as easy as possible for them to check out my work.
Work on your homepage so it delivers what your readers are interested in the most. Put that thing front and center.
Thank you for sticking through this massive guid, I hope it was helpful.
For your convenience, I've gathered all the different resources mentioned in this guide below, so you can refer to them at any time.
Good luck with your work!
Resources:
Website Hosting
Wix.com: For beginners who want easy-to-use pre-made solution.
Bluehost: For those who want more control, but don't wanna spend a lot of money.
Kinsta: For those who want the most advanced premium solution, and don't mind paying for it.
Themes
Articles
The post How to Create a Portfolio Website: A Detailed Guide appeared first on Bloop Animation.